Cypress Creek Station
5910 NW 9th Avenue, Fort Lauderdale, Florida 33309
Directions:
Parking: Free parking for the commuting public
Ticket Vending Machines: Ticket vending machines are available during train operating hours located on both Track 1 and Track 2 platforms. TVMs accept cash, debit, and credit card.
---
Connections
Passengers can request a complimentary Uber or Yellow Cab Taxi ride to or from the Cypress Creek Station within the CC-2 or CC-3 highlighted zones Monday-Friday.
CC-2 and CC-3 Service Areas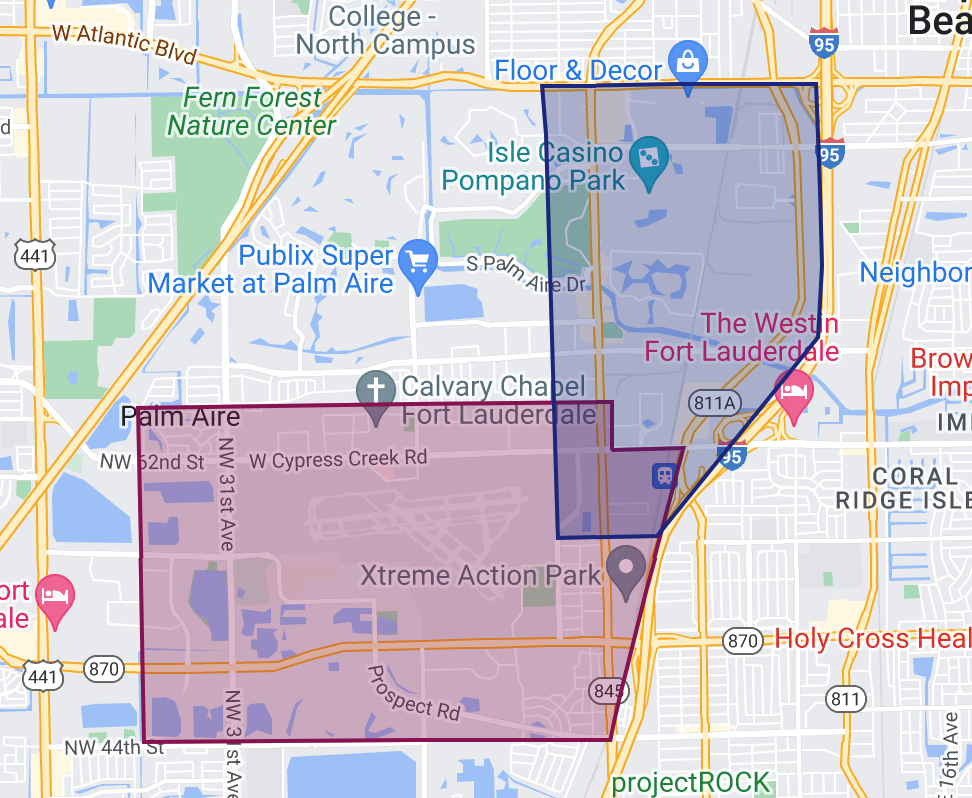 Passengers using Uber must request a ride using the voucher found here https://vouchers.uber.com/c/r_EDCRB8uOPD.
Passengers requesting a Yellow Cab, including wheelchair accessible vehicles must contact Yellow Cab Broward at (954) 777-7777 and specify a Tri-Rail connection to have the trip payment covered by SFRTA. It is recommended that rides be scheduled at least 30-minutes ahead of time. Rides may be pre-programmed for future days in advance. For trips to a Tri-Rail station, please remember to plan to arrive at the station 20-minutes prior to train departure.
Freebee is avaiable within the CC-1 service area ONLY to/from the Cypress Creek Station. Download the Freebee app to request free rides. If you do not have a smartphone, or would like to request addtional accessibility accomodations, please call 855-918-3733.
*Passengers must access BCT Route's 60 and 62 from Andrews Avenue.