Boca Raton Station
680 Yamato Road, Boca Raton, Florida 33431
Directions:
Parking: Free parking for the commuting public
Ticket Vending Machines: Ticket vending machines are available during train operating hours located on both Track 1 and Track 2 platforms. TVMs accept cash, debit, and credit card.
---
Connections
Passengers can request a complimentary Uber or Metro Taxi ride to or from the Boca Raton Station within the BR1 highlighted zone.
BR1 Zone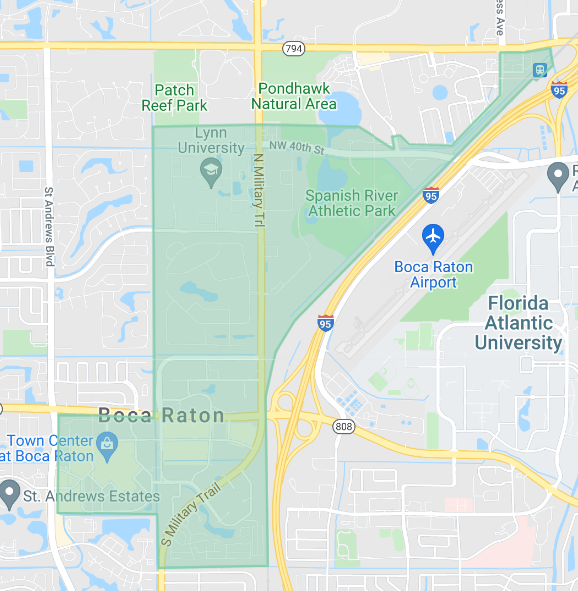 Uber
Passengers using Uber must request a ride using the voucher found here https://vouchers.uber.com/c/r_EDCRB8uOPD.
Metro Taxi
Passengers requesting a Metro Taxi ride, including wheelchair accessible vehicles must call (561) 444-9999 and specify a Tri-Rail connection to have the trip payment covered by SFRTA. It is recommended that rides be scheduled at least 30-minutes ahead of time. Rides may be pre-programmed for future days in advance. For trips to a Tri-Rail station, please remember to plan to arrive at the station 20-minutes prior to train departure.
Route's 2, 94*
*Route 94 serves FAU & PBSC. This route is free for students and staff of both institutions by showing the bus driver a valid student/faculty ID.
Mulitple free shuttle routes between the Boca Raton Tri-Rail station to surrounding properties within The Park at Broken Sound.
TPABS East/West Shuttle Schedule
Free shuttle service from the Boca Raton Tri-Rail station to the Boca Raton Innovation Campus and surrounding properties located west of the Tri-Rail station.